PlusParts is designed differently to other electronic spare parts applications in that it is meant solely for online use. If you have customers who do not have access to the internet, then PlusParts is also available on CD-ROM.
It l
ooks and feels just like the online version.
Nothing changes from the user's point of view. If he is familiar with one system he will also be able to use the other
.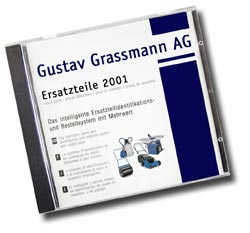 Obviously with the offline version the customer cannot order online. However, he can print out the order form which the application generates and fax it on to you. In order to keep the system up to date, you should send the customers any new versions at regular intervals.
Requirements
The CD-ROM version can be used with the following operating systems: Windows 95, 98, 98SE, ME, XP, 2000.
System requirements: Pentium II 400 MHz; 128 MB RAM, Network protocol TCP/ IP (Standard for Windows 98SE and above but can also be installed for earlier versions)